After the cancellation of the RN's new CVA-01 aircraft carrier in 1966, the planned fleet of Type 82 air defence destroyers was also cancelled (with just the single example under build entering service – HMS Bristol), and a cheaper option was sought. The result was the Type 42 destroyer, a considerably smaller ship with reduced anti-submarine capability and Sea Dart missile capacity, but the addition of a helicopter hangar which would considerably expand her ability to take on submarines and smaller ships with helicopter-launched torpedoes and missiles. HMS Coventry was to be the fourth Type 42 Destroyer to enter RN service, and the fifth Royal Navy ship to bear the name.
Armed with a 4.5″ gun, a twin arm GWS-30 Sea Dart missile launcher, STWS triple torpedo launchers on each beam and a Lynx helicopter capable of carrying torpedoes, nuclear depth bombs and Sea Skua missiles, the type 42 made the most of its relatively small size. Close-in air defence was limited to a pair of WW2 vintage 20 mm Oerlikon cannon on each side just aft of the bridge, as its primary purpose was to fend off hostile aircraft at medium range over the open ocean.
The first type 42, HMS Sheffield, was ordered in November 1968; shortly before she was launched in June 1971, a further two were ordered in May of that year (Birmingham and Coventry). In those days, shipbuilding was mostly carried out by individual yards rather than having blocks built in various locations, but ship orders were spread across the various yards to keep them all in business. Birmingham and Coventry were selected to be built by Cammell Laird & Co. at Birkenhead, and the first metal for Coventry's keel was laid down on 29th January 1973 on the slipway next to the nearly completed hull of HMS Birmingham.
Construction of the basic hull and superstructure was pretty rapid, helped by Cammell Laird's prior experience with building Birmingham. Construction techniques did not differ a great deal from previous warships built at Birkenhead. Lairds would later pioneer the extrusion technique of shipbuilding with HMS Liverpool, putting together blocks of the ship undercover in a huge assembly hall, and gradually moving the ship out of the hall as more and more was completed, but the workers on Vessel 1359 (as she was designated by her builders) had no such undercover luxuries!
Coventry was ceremonially launched into the River Mersey on 21st June 1974 by Lady Jane Lewin, wife of the First Sea Lord Terence Lewin. At this point, Coventry was largely an empty shell. She had yet to be fitted with her engines and most of her machinery, had no funnel or main mast, and most of her compartments lacked systems. She was also lacking her weapon systems and radars.
Her build and fitting out then continued in the wet basin and dry docks at Birkenhead. She took rather longer than expected to fit out, one major problem being the discovery of oil leaks in her Controllable Pitch Propeller system, which required extra time in dry dock to rectify. Her extra time in build, however, had enabled a slew of improvements to be made to the ship in comparison to Sheffield and Birmingham, though the Batch 1 ships were essentially pretty similar. Sea trials for Sheffield had found that the ship rolled quite badly in heavy seas despite her stabiliser fins, and the deck also needed strengthening; Coventry had reinforcing girders fitted on the weatherdeck edges during build as a result. A slew of minor modifications were also incorporated, many subject to quibbles with the MoD about who paid for them, which helped to drive the yard deep into debt until it was nationalised along with the rest of Britain's shipbuilding industry in 1977.
Finally, in early May 1978, Coventry was declared ready, slipping from the Cammell Laird wet basin at the decidedly uncivilised hour of 01:20 AM on 11th May 1978 to begin the first part of these contractor's sea trials. These proceeded pretty smoothly, despite the ship being burdened with nearly a hundred extra crew in the form of workers from Cammell Laird and various subcontractors, all on board to check the myriad of systems incorporated in this new destroyer – and fix them if necessary! At this point, she had yet to be given her pennant number of D118, but wore her name on the stern.
HMS Coventry was accepted by the Royal Navy on 30th October 1978 and then commissioned on 10th November 1978 at Portsmouth Dockyard. Initially allocated to the 8th Frigate Squadron (hence the '8' on the funnel) and under the command of Captain C. Burne, following initial sea trials she was given the task of trialling the Lynx helicopter to determine safe operating limits for the Lynx/Type 42 combination. Sheffield and Birmingham were operating with a Wasp helicopter at this time, though Birmingham had carried out some limited Lynx trials.
In April 1979, the ship was awarded the Freedom of the City of Coventry. In November 1979 Coventry took part in the search for any survivors from the coaster MV Pool Fisher, which sank off the Isle of Wight in heavy seas (just two of the 15 on board were saved from the water by RN helos). Later in the year, she hosted a Chinese military delegation – a prelude to a historic deployment that would end up visiting China.
Coventry was transferred to the 1st Frigate Squadron in March 1980, resulting in the '8' on the funnel being replaced with a '1'. Trials with the ship's inflatable lifeboats had found they were capable of holding more men than originally designed, and with top weight a constant worry on the type 42, the decision was taken to reduce the number of life rafts carried by removing two from each beam station and to cut off the empty shelves at her first refit.
Her first major deployment was to the Far East, as part of Task Group 318.0 along with HMS Alacrity and HMS Antrim, exercising with the navies of France, Pakistan, Oman and the USA enroute. She left Pompey on 19th May 1980, with her first stop being at Gibraltar from 23rd to 27th May – a firm favourite run ashore for anybody in the RN! By now the Lynx was fully cleared for Type 42 use, and Coventry's Ships Flight aircraft was XZ257, nicknamed 'Lady G' and coded '336'.
Departing Gib, her next stop was Naples at the start of June, then onward to Istanbul from the 6th to the 10th of June. Coventry transited the Suez Canal on the 12th/13th enroute to visit Mombasa for a week commencing on 23rd June.
The deployment continued with a visit to the Gulf, calling at Dubai and Kuwait, then onward to Karachi, stopping there from 10th to 14th July. The long transit to Singapore was next, 10 days at sea, followed by a few days at Singapore from the 24th. After anti-air warfare exercises with the Singapore Air Force, the next stop – another favourite with RN sailors – was Hong Kong on the 30th July, staying there until the 17th of August. After that it was a visit to the Philippines, and a stay with the USN at Subic Bay from 22nd to 25th of the month before the next leg – and a bit of history making!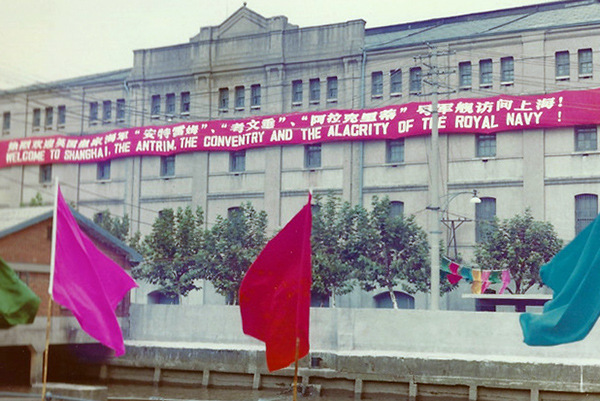 On 4th September 1980 she arrived at Shanghai along with HMS Antrim and HMS Alacrity; this was the first visit by British warships to the Republic of China in 30 years, and a warm welcome was received – though the welcoming banner for 'HMS CONVENTRY' provoked more than a few grins, particularly onboard Antrim and Alacrity! Departing Shanghai on the 8th, Coventry finished off the deployment with visits to Tokyo (11th to 15th) and Kure (18th to 22nd) before turning for home.
During the voyage home, in late September, the Iran-Iraq war broke out, and Coventry was detoured to patrol the Persian Gulf for several weeks from 7th October, along with HMS Naiad and Alacrity, beginning the Armila Patrol that the RN has kept up ever since in one form or another. Prior to restarting the journey home, a visit was made to Bombay from 6th to 10th November, and Coventry's next stop after another Suez Canal transit was at Alexandria from 22nd to 26th November.
She finally returned home on 8th December 1980 to spend some time in refit, including the removal of the forward pair of life raft mounts on each beam station and the addition of a Coventry coat of arms on the funnel sides, a recognition of the efforts made by her crew to raise money for various charitable concerns in Coventry (including the refurbishment of a narrow boat for use by the city's handicapped children). The funnel also lost the stripe and '1' at this time, as all the then-commissioned Type 42s became part of the newly formed 3rd Destroyer Squadron.
At the start of 1981, she gained a new CO – Captain David Hart-Dyke. Previously executive officer on HMS Hampshire and HMY Britannia, Coventry was to be his first command. After her refit, Coventry worked up around Portland during May and then took part in the Navy Days at Chatham on May 24th/25th before returning to Portsmouth. In early June she sailed again for Rosyth and Exercise Roebuck 81, during which she embarked a 'guest' in the form of an 815 NAS Lynx fitted with the new Orange Crop ESM (Electronic Support Measures) equipment. Trials of this kit took place before the Lynx disembarked on June 19th to be replaced by Coventry's usual 'cab', XZ257.
In late August 1981 Coventry sailed on exercise 'Ocean Venture' and then joined Standing Naval Force Atlantic ('SNFL') and took part in a further two large exercises – 'Magic Sword North' and 'Ocean Safari', gaining a NATO badge on her main mast for the duration, visiting Lisbon during Ocean Safari and then Wilhemshaven for a shore maintenance period afterwards. She finished the year with a JMC exercise off Scotland and into the Baltic, returning to Portsmouth for Christmas leave.
In January 1982 the ship launched into a training period of three weeks of PWO training and deck landing trials off Portland, taking part in the weekly 'Thursday war' exercises (including attempting to fend off low-level practice attacks by Hawker Hunters using the 4.5″ gun). On 17th March she departed Portsmouth to sail to Gibraltar for the annual Operation Springtrain exercise, with a well-trained crew looking forward to some winter sunshine! Her usual Lynx had been swapped for another – XZ700, but also coded 336 so as not to confuse anybody in the hangar. The sail to Gib was a useful part of the exercise, with Coventry at one point acting as air defence picket, tracking and making practice engagements against aircraft sent to take a look at the ships en-route to Gibraltar.
Springtrain formally began on 20th March and started with an initial work-up phase, to be followed by a live-firing phase beginning on 29th March. Coventry departed Gibraltar's friendly waters on the 29th to begin the live-fire exercises, with the crew looking forward to being back in Portsmouth on 6th April. Coventry's efforts with the Sea Dart live fires were unexpectedly disappointing, with 2 out of 3 missiles fired going 'rogue'. The third was on course to hit the target when the target was downed by another Sea Dart fired by sister ship HMS Sheffield – much to Coventry's displeasure!
Any stop at Gib was a popular one in the RN – and remains so. When not at sea, Coventry was alongside, giving ample opportunities for the crew to partake in the many, many pubs available for a traditional run ashore (sadly these days there are far fewer). The usual 'Rock Run' contest of running from the RN HQ to the top of the Rock was also put on, with Coventry's own WEM McCartney taking individual honours.
Just days into the second part of the exercise came news of Argentina's invasion of the Falklands. Coventry was selected to become part of the Advanced Group of the Task Force, and Spingtrain was terminated early. HMS Coventry set sail for the South Atlantic at the beginning of April.